Welcome to UniQcam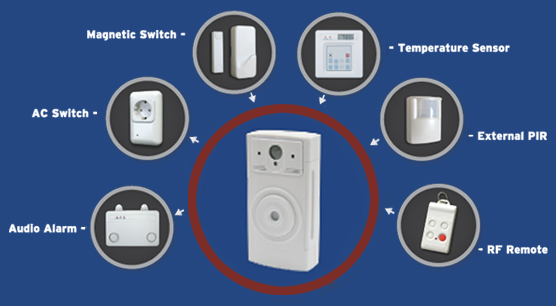 A standalone camera system with integrated "Solid State DVR" and PIR. Its extreme low standby and operational power enables the camera to stay in active mode over a long period of time on rechargeable battery power.
High resolution images can be taken in even low light conditions using latest high dynamic range (HDR) and low light sensitive CMOS Image Sensors.
Up to 400,000 Images or days long of MPEG Videos are stored with or w/o Audio on the internal NAND Memory and the optional SD Card (up to 32 GB). JPEG Images or MPEG Clips are recorded when movement is detected or during scheduled times according to individual setup.
Images and Videos are Time / Date / Text stamped, have programmable text overlay, are secured by invisible watermark and can be encrypted. The Camera with RF Remote Control comes in a small and rugged portable IP66 Case and has all the features required for professional security camera systems.
AUS-Patent Granted, Other Patents Pending